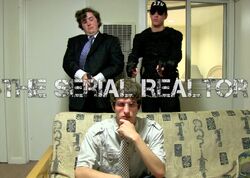 The Serial Realtor is a comedy movie by Thomas Productions filmed on location in two different cities in the Bay Area of California in the summer of 2012. It was released on September 8, 2012 on YouTube.
Synopsis
When Detective Ripley Rogers is saddled with the new and rebellious agent Silas Coburn, sparks fly. But these two reluctant partners will have to work together if they want to take down the mysterious and murderous Serial Realtor.
Plot
The Serial Realtor (Kyle) sells a house to a man and then immediately kills him. Meanwhile, Detective Ripley Rogers (Layne) gets a call about a missing person. He informs his partner, Agent Silas Coburn (Kevin). Together, their investigation leads them to the doorstep of the Serial Realtor.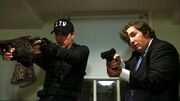 The realtor introduces himself as Hank Honk. He tries to sell the agents the house, who are undercover as potential buyers. They leave without buying the house, but return that night to arrest Hank. They take him in for questioning, where they learn that he sells a house, kills the people he sells it to, and then starts over with a new name.
Rogers and Coburn are then assigned to liquidate the house. A strange man buys the house, and in the last shot of the movie, he is revealed to be the Serial Realtor.
Trivia
The movie was shot at the same location where other Thomas Productions movies are filmed such as Now Hiring. The HQ set had previously been seen in Detective Awesome and the Day-Job Whodunit.
When Detective Rogers gets a call about a missing person, he informs Agent Coburn the person went missing in Pacific Beach. Pacific Beach is a fictional beach that was also the setting for Buffy and the Tuesdays: A World Unforgiven.
The Serial Realtor won many awards in the 7th annual TPMA (Thomas Productions Movie Awards), including Best Thomas Productions Movie of All Time.