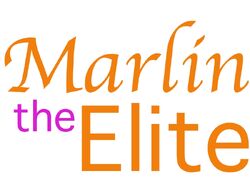 Marlin the Elite
is a popular machinima made by
Thomas Productions Inc.
using the Halo 2, 3, Reach, and Halo 2 Anniversary engines. It is based around Marlin, an Elite that some may call dumb. It would be placed in the comedy genre of machinimas. To view the episodes, click
here
.
The machinima came to attention of www.gruntsrus.com [1], which sponsored the series up until it's shutdown (after it reopened, the same deal was struck until GRU's closure in 2012). Former sponsors have included Machinimaniacs [2](a machinima community) and the Halo podcast Halo Amplified, as well as the Forging community H3 Artificer. In September 2013, a new partnership was struck with the gaming site SimplyXbox.com, before it too closed its doors.
It is one of a few popular machinimas from TP including Halo 3 Dance TV, Random Sauce and Friend.
Introduction
Edit
Marlin the Elite follows the story of Marlin, as he goes on crazy adventures throughout different places with different people. The Marlin series has a relatively large fan base. The episodes are usually around 7-10 minutes long, and the shots are usually around 2-6 minutes long. Each season is ten episodes long. In most episodes, someone that Marlin meets will die, whether it's an explosion, or something more humorous. This so far excludes core characters, such as Lemon Man, Marlin's grandparents, and Cotton Swab. In cartoon fashion, some characters (such as Cory Von Sexy) are subjected to seemingly lethal harm, only to return unscathed in a following episode.
Characters
Edit
This is a list of the main characters of Marlin the Elite.
Marlin has appeared in all episodes. He is comical without knowing it. He is the star of the series. He first lived in a penthouse, but was evicted from the town after destroying it with a tank. He found a new home in the Pit, a community-style apartment complex. It was here that he met his best frind Lemon Man. He met his other friend, Cotton Swab after being drafted into the military. After deadly viruses were discovered there, he and his friends were relocated to Alpine Springs, where they currently reside. He is voiced by Layne.
F'Andre "Lemon Man" Norman Klaus
Edit
Lemon Man was first seen in episode 9. He pulled a prank on Marlin by sending him to a closed area, but became his friend in episode 10. He has appeared in almost every episode since. His real name, as revealed in episode 14, is F'Andre Norman Klaus. Lemon Man was living int he Pit when Marlin moved in. The two became best friends. He bonded with Cotton Swab over their love of the Galactic X sci-fi series. After deadly viruses were discovered in the Pit, he and his friends were relocated to Alpine Springs, where they all currently reside. He is voiced by Kevin.
Sardonicus "Cotton Swab" McGillicutty
Edit
Cotton Swab, whose name was revealed to be Sardonicus McGillicutty in episode 40, was a Prisoner of War at the same time as Marlin. With the help of Marlin's grandma, Cotton Swab was able to escape. He then moved to The Pit next to Lemon Man and across from Marlin. He made his first appearance in episode 22. Cotton Swab has an extensive military history, working as both an infantryman and as a member of a SWAT team. He moved into the Pit after a death left a vacancy to be filled. When deadly viruses were discovered there, he and his friends where relocated to Alpine Springs, where they currently reside. He is voiced by Kyle.
Introduced in episode 7 (but briefly mentioned in episode 6), Marlin's grandma is an old purple Elite who carries around flame grenades wherever she goes. She loves Marlin, but doesn't really care for anyone else. She was seen in A Message From Marlin: Thanksgiving at her house in Guardian, and is a recurring character in the series. She and Grandpa moved to Alpine Springs to be closer to Marlin. She is voiced by Kyle.
The character of Marlin's grandpa was introduced in A Message from Marlin: Thanksgiving. A shotgun-toting old-timer, Grandpa is very much intrenched in the past, and often references how things were back in his day. He suffers from bouts of forgetfulness, physical accidents, and is more sedate than his wife (Grandma). However, he has a strong desire to bond with Marlin and the younger generation. Grandpa is voiced by Layne.
Cory Von Sexy
Edit
First seen in episode 18, Cory Von Sexy has a mysterious history with Lemon Man. His original career was Hot Air Balloon racing, but after Marlin and Lemon Man beat him in a race, he has made a new career out of revenge. In every episode that he appears in, he hatches increasingly elaborate plans to kill Marlin. First, he became the leader of the military group, the Iraqimanistines, where he held Marlin as a Prisoner of War. Next, he showed up at Marlin's Grandma's unnecessary funeral. He then got a role in a Galactic X movie so that he could get a free ticket to the Galacticon, an event Marlin was sure to attend. Then, he planned to marry Marlin's grandma. He has failed in all of his attempts to kill Marlin. Every time he dies, he is resurrected by his 1000 secretly Goth girlfriends. He is voiced by Kyle.
Rourke is a supporting character of Cory Von Sexy. He appears to be somewhat of the bodygaurd or associate of Cory, and the longest villain besides Cory to survive. He acts as the enforcer and pilot of Cory's group. He seems to pilot the same falcon until it's destruction in episode 80. Rourke was originally seen in episode 67. Marlin, much to his suprise, finds Rourke nude in the sauna, which apparently he does frequently. He sent to prison, oddly spending quite a time rather than being fined. There he meets Cory, and later Dr. Zumpkin, where they form the squad the "Revengers" and break out of the prison. Soon after they capture Marlin and prepare to kill him, yet are stopped by Lemon Man and Cotton Swab, who fire at a mountain causing an avalanche. Rourke survives and finds Zumpkin crushed dead by debris of the avalanche. He saves cory in the falcon and fly back in the distance. Rourke makes his third appearance capturing Lemon man and forcing him to cook lemon cakes to by the alligator, a super weapon, and orders shipping. He later tells Cory they have the funds, and they escape in his falcon, only to be confronted by Marlin in another falcon, where Marlin is holding the alligator. Marlin destroys their falcon, where Rourke's body falls down out of sight, apperently escaping the crash.
Jerry Cripes (formerly The Devil)
Edit
Jerry was first introduced in episode 34 as "The Devil", when Marlin and the 1337 Scouts found themselves in Hell. After discovering an elevator leading to the surface, Jerry gave up the his job as the Devil to pursue his passion for Subway. After being fired from his new job at Subway, Jerry took up stand-up comedy. With the help of Marlin, Jerry became confident with his comedic skills and moved into a house in Alpine Springs. He has saved Marlin and his friends on multiple occasions, including an attack by Cory Von Sexy at Glacticon. Jerry is voiced by Kevin.
Introduced in episode 53, Schmo is an extremely rich aviation enthusiast who wears a jet pack. He owns a large, cliff-side mansion in Alpine Springs, located right above Marlin's house. He looks down on poorer people and tends to avoid them, but he'll begrudgingly put up with them (and even help them) if need-be; he has physically and financially saved Marlin and his friends on several occasions. Schmo is played by Kyle
Marlin the Elite is a seasonal show, with ten episodes per season. The first season, often viewed as the most classic, started in Spetember and was finished in December. The second season started in September. The third started in September and went through December. The fourth has been started. A fifth was accidentally confirmed.
The first season of Marlin the Elite showed off ThomasProductions's machinima techniques, as well as their ability to produce a comedic character and a slight-storyline show.
The slight storyline is season 1 is that the mayor of Marlin's town kicked him out for destruction, and he moved to a new, more quiet but small town called the Pit, where he met a new friend.
Season 1 contained:
Marlin the Elite (original airdate: 9/4/07)
Ep. 2: The Dunes (original airdate: 9/5/07)
Ep. 3: Marlin Gets a Job (original airdate: 9/8/07)
Ep. 4: Marlin's Road Trip Vacation (original airdate: 9/11/07)
Ep. 5: Roberto's Avenge (original airdate: 9/11/07)
Ep. 6: Moving (original airdate: (original airdate: 9/15/07)
EP. 7: Marlin's New House (original airdate: 10/26/07)
Ep. 8: The Dealership (original airdate: 11/17/07)
Ep. 9: The Playground (original airdate: 12/5/07)
Ep. 10:The Elite in Pink (original airdate: 12/14/07)
Season two kept the series going uphill. It was highly anticipated by fans.
Season 2 has no main over-arching storylines to it. It also gave fans the chance to participate in an episode (14). It also contained the "best/funniest episode" (according to fans), which is episode 18.
Season 2 contains/will contain:
Ep. 11: Tryouts (original airdate: 2/9/08)
Ep. 12: A Real Job (original airdate: 3/7/08)
Ep. 13: Unlucky? (original airdate: 4/11/08)
Ep. 14: Candy (original airdate: 4/30/08)
Ep. 15: The Chopperz (original airdate: 5/9/08)
Ep. 16: Marlin of the Dunes (original airdate: 5/16/08)
Ep. 17: Rap Trap (part 1 and part 2) (original airdate: 6/13/08)
Ep. 18: Hot Air (part 1 and part 2) (original airdate: 6/21/08)
Ep. 19: Friendly Neighborhood Neighbor (original airdate: 7/12/08)
Ep. 20: Agent Marlin (original airdate: 7/19/08)
Season 3 began on Spetember 4th, 2008, exactly 1 year after the first episode aired. Season 3 contains:
Ep. 21: Drafted: 9/4/08
Ep. 22: Escape: 9/13/08
Ep. 23: The Scary: 9/29/08
Ep. 24: Klaus vs. Samson: 10/31/08
Ep. 25: Reunion: 11/7/08
Ep. 26: Lunch: 11/14/08
Ep. 27: Marlin on a Plane: 11/21/08
Ep. 28: Commercial: 11/28/08
Ep. 29: Game Show: 12/5/08
Ep. 30: Caroling: 12/12/08
Due to the Mapocalypse (see below), Thomas Productions created original music for this new season.
Ep. 31: Driver's Ed: 2/9/09
Ep. 32: RIP: 3/15/09
Ep. 33: 1337: 4/11/09
Ep. 34: h311: 4/24/09
Ep. 35: Trip to the Mall: 5/1/09
Ep. 36: Grandma's Birthday: 5/8/09
Ep. 37: 'Puter Store: 5/15/09
Ep. 38: Match Made in Heaven: 5/22/09
Ep. 39: Sweat and Toil: 5/31/09
Ep. 40: Southern BBQ: 6/6/09
The fifth season began on September 4th, 2009. It once again included new and original music. This season took longer and officially ended in June 2010.
Ep. 41: Target Practice: 9/4/09
Ep. 42: Birthday Surprise: 9/13/09
Ep. 43: Space Invasion: 10/31/09
Ep. 44: Down at the Docks: 11/15/09
Ep. 45: Hunting Challenge: 12/18/09
Ep. 46: House Service: 12/20/09
Ep. 47: The Orange Confusion: 2/10/10
Ep. 48: The Bodyguard: 3/13/10
Ep. 49: I See Marlin, I See France: 4/9/10
Ep. 50: Galacticon: 6/12/10
The main storyline of Season 6 is that Marlin, Lemon man and Cotton Swab get a new house
Ep. 51: Getting Schooled: 9/4/10
Ep. 52: End of an Area: 10/15/10
Ep. 53: Alpine Springs: 10/30/10
Ep. 54: Dental Dilemma: 12/18/10
Ep. 55: O Christmas Tree: 12/24/10
Ep. 56: An Elite Walks Among Us: 2/24/11
Ep. 57: Big Spenders: 3/14/11
Ep. 58: One Way Trip: 4/16/11
Ep. 59: Funny with the Devil: 5/30/11
Ep. 60: Off Course: 6/12/11
The seventh season began on September 4th, 2011. The last four episodes of the season loosely form a single storyline, as Marlin makes enemies who set out to get revenge.
Ep. 61: Something Old, Something New: 9/4/11
Ep. 62: Fair is Fair: 11/24/11
Ep. 63: Roughn' It: 12/9/11
Ep. 64: A Super Day: 12/16/11
Ep. 65: Get a Clue: 12/23/11
Ep. 66: I Spy: 2/10/12
Ep. 67: R&R: 3/9/12
Ep. 68: Irresistable Deal: 4/27/12
Ep. 69: The Revengers: 5/30/12
Ep. 70: A Sexy Revenge: 6/20/12
The eighth season began on September 4th, 2012.
Ep. 71: Takes the Cake: 9/4/12
Ep. 72: Self-Help Gentleman: 10/12/12
Ep. 73: Hazard Zone: 11/2/12
Ep. 74: The Big Race: 11/30/12
Ep. 75: Cruise Ship Vacation: 12/21/12
Ep. 76: An Unexpected Tourney: 2/8/13
Ep. 77: Master Marlin: 3/8/13
Ep. 78: Go Big: 4/26/13
Ep. 79: Baking Bad: 6/1/13
Ep. 80: Later, Alligator: 6/28/13
Season 9
Edit
The ninth season began on September 4th, 2013. This season began the Teleporter storyline, which continued into season 10.
Ep. 81: The Arrival: 9/4/13
Ep. 82: Swab Job: 10/25/13
Ep. 83: Black Friday: 11/27/13
Ep. 84: Grand Theft Grandma: 12/14/13
Ep. 85: Man-Off: 12/20/13
Ep. 86: A Fool's Gold: 2/14/14
Ep. 87: Close Encounter: 3/14/14
Ep. 88: Warm Reception: 4/26/14
Ep. 89: Land of Tomorrow: 5/26/14
Ep. 90: No Way Back: 6/21/14
Season 10
Edit
The tenth season began on September 4th, 2014. Some episodes are a continuation of the Teleporter storyline, which was started in season 9.
Ep. 91: The Enemy: 9/4/14
Ep. 92: The Masquerade: 10/30/14
Ep. 93: Coming and Going: 11/25/14
Ep. 94: Shady Business: 12/14/14
Ep. 95: The Rescue Party: 12/22/14
Ep. 96: Gramps Gone Wild: 2/14/15
Ep. 97: Battleground: 3/20/15
Ep. 98: State of Emergency: 4/28/15
Ep. 99: The Scourge: 5/22/15
Ep. 100: Long Story Short: 6/26/15
Season 11
Edit
The eleventh season was announced on August 31, 2019, with the first episode premiering on September 4th, 2019, and the season finale airing on December 31st. Work began on the 11th season in August 2018, roughly a year after the release of Marlin the Elite: The Movie. Unlike previous seasons, episodes were saved up and released in close succession.
Ep. 101: Food Forethought: 9/4/19
Ep. 102: A Very Secret Service: 9/13/19
Ep. 103: Tales from the Casino: 9/20/19
Ep. 104: Dick Picnic: 10/4/19
Ep. 105: Startapp: 10/18/19
Ep. 106: Someone in Mind: 10/31/19
Ep. 107: Mismatched: 11/15/19
Ep. 108: Lawbreaking Citizen: 11/28/19
Ep. 109: Ridr Die: 12/13/19
Ep. 110: Torture Chamber: 12/31/19
Episode Chronology: Season 1
Edit
Episode 1 (Halo 2)
Edit
Marlin gives a tour of his penthouse, and then heads over to his friend's house. It turns out that his friend doesn't like Marlin very much, and ends up getting killed because of Marlin. It was the only nameless episode.
Episode 2: The Dunes (Halo 2)
Edit
Marlin takes a train ride to a local city that is host to some dunes. Marlin, being as reckless as possible, totals the car he is given in the dunes. He is given a fine of 600 McBillion dollars, a running gag in the series.
Episode 3: Marlin Gets a Job (Halo 2)
Edit
Marlin, realising that he needs some furniture, sets out to buy some. It turns out that he needs money to buy some, so he gets a job as a construction worker, but ends up in a small drug-related company. Realizing what must be done, he takes action and destroys the drugs, killing the dealer in the process.
Episode 4: Marlin's Road Trip Vacation (Halo 2)
Edit
Marlin realizes that he has been going on almost a killing rampage, so he decides to take a vacation to get away from the madness. He checks in a hotel, and clogs the hotel's famous Manurefall. When it ends up unclogging itself, Marlin accidentally kills the hotel owner. He flees, and gets run over by a train.
Episode 5: Roberto's Avenge (Halo 2)
Edit
After the trauma of getting hit by a train, Marlin checks into rehab at a beautiful rehab center. He is then relocated to a much lower-grade facility, where he meets his friend's Billy Bob's brother, Roberto. Roberto thinks Marlin killed Billybob. So Roberto wants to avenge his brother, by killing Marlin, but ends up killing himself.
Episode 6: Moving (Halo 2)
Edit
Marlin wants a new vehicle, so he steals a military tank. He uses it to destroy the town, and the mayor stops him. Marlin is then evicted from his town.
Episode 7: Marlin's New House (Halo 3)
Edit
Marlin's grandma helps him look for a new house. He looks in Valhalla, where trades one of his precious Warthogs for a Mongoose, and then finds a small, cozy room in the friendly neighborhood of The Pit.
Episode 8: The Dealership (Halo 3)
Edit
Marlin is teased for being an Elite and owning a Mongoose, so he is pressured into going to a dealership. He ends up destroying all of the Ghosts there, and the Ghost dealer is also killed.
Episode 9: The Playground (Halo 3)
Edit
Marlin's new neighbor, nicknamed "Lemon Man" for his yellowish appearance, tells Marlin about a new playground. Marlin's grandma drives him there, where he is shot at a lot but not killed. He and his grandmother are kicked out of the playground.
Episode 10: The Elite in Pink (Halo 3)
Edit
Lemon Man tells Marlin about a new crashed Pelican. He goes to check it out, where he meets a pink Elite. He chases the Elite around, thinking that it's a cute girl, and asks to be friends. The Elite ends up being a man, and Marlin runs away.
Episode Chronology: Season 2
Edit
Episode 11: The Tryouts (Halo 3)
Edit
Lemon Man tells Marlin about the age-old sport of "Rocket Baseball". Marlin is up for tryouts, and journeys to Standoff for them. When he incredibly makes the team, he spoils it by killing the team captain during practice on the day of the big game. The coach is also killed a few moments later, by Marlin again.
Episode 12: A Real Job (Halo 3)
Edit
Marlin learns that he needs to pay off his first mortgage, so he gets a job as a high school chemistry teacher. He doesn't know a thing about what he's supposed to be teaching, so he takes the teens out to teach them about rockets. The roudy students end up killing each other, and Marlin is fired on the spot.
Episode 13: Unlucky? (Halo 3)
Edit
This episode was released simultaneously with another Marlin video (see Fan episode below). It starts out with a crook from the Pit stealing Marlin's Mongoose. Lemon Man aids him in getting it back, but when it explodes, Marlin realizes that he has bad luck. So he goes to a scientist so that tests can be performed to see if he really is unlucky.
Episode 14: Candy (Halo 3)
Edit
Marlin and Lemon Man win a tour to a candy factory. After the agonizingly boring but extremely funny tour, they learn that most of the workers there are actually slaves. Marlin then leads a slave revolt, and all paid workers are required to "shoot the slaves on sight". This was the fan episode.
Episode 15: The Chopperz (Halo 3)
Edit
The Chopperz Gang (a 3-person gang who ride Brute Choppers) terrorizes the Dunes that Marlin went to. They were remodeled, and Marlin was invited back to try it again on a Mongoose. But after he accidentally destroys the Chopperz' Choppers, they strand him and leave him to die. Episode 16 will continue this story.
Episode 16: Marlin of the Dunes (Halo 3)
Edit
After wandering around, a tribal assistant finds Marlin. He is taken to the leader, who ropes Marlin into a plan to destroy the Chopperz. They use a TTV (Tribal Transport Vehicle) to attack, and end up destroying it along with the chopper gang.
Episode 17: Rap Trap (Halo 3)
Edit
This episode is so long, that it was split into two parts, and a deleted scenes video was made as well. A producer and manager for a famous rapper (named the Rapping Crapper) recognizes Marlin's talent as a rapper, and so he makes Marlin and the Rapping Crapper do a record together. But RC is used to doing albums solo, and when their duet album becomes #1 on the charts, he wants it taken down. Marlin fans attempt to run them out of town. A number of songs were created by Thomas Productions for use with this episode. Extended versions are up on thomasproductionsinc.com for download.
Episode 18: Hot Air (Halo 3)
Edit
Lemon Man comes to Marlin for help with a Hot Air Balloon contest, then Marlin bets that he can beat the worlds fastest Hot Air Balloon Racer, Cory Von Sexy. It is unclear who won or not, but Lemon Man ended up having to pay off the damages. Among fans, this is the best episode.
Episode 19: Friendly Neighborhood Neighbor (Halo 3)
Edit
This episode, filmed alongside episode 20, takes place entirely in the Pit. A new neighbor, named Virgil, moves in. He collects weapons. Marlin sneaks in to look at the weapons, and ends up being chased by Virgil. Virgil explodes a warhead on accident and is killed.
Episode 20: Agent Marlin (Halo 3)
Edit
Marlin's plasma pistol is stolen. He and Lemon Man go to find the culprit. Their search takes them all the way to Guardian, where they find that Marlin's grandma stole it so that she could give it to him as a birthday present.
Episode Chronology: Season 3
Edit
Episode 21: Drafted (Halo 3)
Edit
Marlin and Lemon Man try to join the army, but Lemon Man leaves and Marlin in captured by the enemy.
Episode 22: Escape (Halo 3)
Edit
In this episode, Marlin and his new jail buddies, Cotton Swab and Tattoo, try to escape from a POW jail. After Tattoo is executed, Marlin makes a comment that makes the Iraqimanestein leader angry. When the leader comes to Marlin's cell to punish him, the audience learns that the leader is actually Cory von Sexy. Marlin's grandmother rescues him, and they go home. Meanwhile, it is presumed that Von Sexy dies when he rides off the edge of a cliff on his flaming Mongoose, screaming at the top of his lungs. A new permanent character, Cotton Swab, was introduced in this episode.
Episode 23: The Scary (Halo 3)
Edit
As more and more salespeople visit Marlin's house, he ends up hiding in a corner. Lemon Man tells him that the only way to get over his fear of salespeople is to go to Sales Con '08, a salesperson convention where Marlin can see that salespeople are regular guys who just want to sell him useless junk. When Marlin doesn't have enough money for the plane ride home, he ends up having to go door to door selling cell phone socks
Episode 24: Klaus vs. Samson (Halo 3)
Edit
Lemon Man's secret lemon cake recipe is stolen, and he goes to court to find out who did it. The suspect is J.O. Samson, but it turns our the judge is the culprit. Marlin is the only person unbiased against J.O., so he is the only jury member.
Episode 25: Reunion (Halo 3)
Edit
Marlin's grandfather is having a birthday party at his house. His old friends have been invited, and two of them hate each other. Marlin's present is a Ghost, to which Grandpa drives off an edge. Grandma says that she will fish him out in the morning.
Episode 26: Lunch (Halo 3)
Edit
This episode was done entirely by Layne. It is centered around a fast food restaurant. When Marlin goes to the McChicken Hut (home of the McChicken Patty), things more and more complicated, making for confusion. These include lost orders and difficulty deciding what to get.
Episode 27: Marlin on a Plane (Halo 3)
Edit
Marlin, Lemon Man, and a man named Frank are all on a plane. After the pilot goes blind, Frank jumps off of the plane. It turns out, however, that they were all just on a ride at Barnaby's Happy Happy Joy Joy Land. This episode was paired with a teaser for Thomas Productions' next machinima project, Project BlackKnight
Episode 28: Commercial (Halo 3)
Edit
In this episode, Marlin in invited to star in a Warthog Repair commercial. However, he does such a poor job that someone voices over him.
Episode 29: Game Show (Halo 3)
Edit
In this episode, Lemon Man falls sick just before filming a game show episode, so he asks Marlin to substitute for him. Marlin fails to the answer the first question, despite using all of his lifelines.
Episode 30: Caroling (Halo 3)
Edit
Cotton Swab moves in to Virgil's former home. He and Marlin go caroling. Anywone who hears Marlin kills themselves, even when he sings a very nice version of Silver Bells. This concluded Season 3.
Episode Chronology: Season 4
Edit
Episode 31: Driver's Ed (Halo 3)
Edit
Lemon Man signs Marlin up for Ralphonso Mexitalian's driving class. Ralphonso gets impatient when Marlin can't seem to do anything right. And when Lemon Man finds out that Ralphonso just wants money, he attempts to kill him.
Episode 32: RIP (Halo 3)
Edit
When Marlin thinks that Grandma dies, he sets up a funeral for her. During the funeral, Grandma shows up, ending up alive. Cory Von Sexy also shows up to explain what happened to the funeral food. He is chased away by Grandma.
Episode 33: 1337 (Halo 3)
Edit
This is the first of a two-part story arc. Marlin forgot that he joined the 1337 Scouts (a boy-scout type club for Elites). He has to pay off his membership fees, but decides to work it off as a volunteer. As the group travels to Camp Wawabahoosus, Marlin and the 1337 Scouts get trapped in a desert. One of the kids, Snot, falls down a tunnel, and Marlin and the Scout leader go down to rescue him.
Episode 34: h311 (Halo 3)
Edit
This episode finished up the two-part story arch started with episode 33. Marlin, the camp leader, and Snot are stuck in Hell, and must get a hole-in-one on one of the devil's golf courses. The camp leader takes the Kiddy Course of Terror and fails, so his soul is kept forever. Snot takes the Tower of Death, and he fails too. Marlin wins the Anthill of Doom, but there is no way out. However, Lemon Man comes to rescue him and shows him out by way of elevator.
Episode 35: Trip to the Mall (Halo 3)
Edit
Marlin and Lemon Man head to a mall to get a present for Grandma's birthday. They buy a Sausage maker and Flamethrower. Marlin is scared of escalators, so Lemon Man enlists the help of a security officer to get Marlin to come down. Eventually he does, and Marlin and Lemon Man head to the Mongoose to go home.
Episode 36: Grandma's Birthday (Halo 3)
Edit
In this episode,Marlin and Lemon Man give their presents to Grandma,but Lemon Man forgot his and sends Marlin.Marlin has to do 3 Trials which involve him signing a contract and paying 600 Mcbillion dollars to the security system, giving the security system 600 Mcbillion dollars,eating a tree,and learning a new language.He passes all 3 trials and it given 15 seconds to find Lemon Man's gift to Grandma,which he can't find in time,and runs out of the house screaming while the security system charges it's laser.
Episode 37: 'Puter Store (Halo 3)
Edit
Cotton Swab wants to buy a computer, so he and Marlin go to a computer store. Then a robber comes in and tries to steal a huge computer. But the sales clerk calls SWAT to take care of the robber. Unfortunately, the robber gets away and SWAT completely destroys the 'Puter Store. Marlin and Cotton Swab escape, but the clerk dies when SWAT destroys the place.
Episode 38: Match Made in Heaven (Halo 3)
Edit
This episode was concieved in a time where the creators were running out of ideas for episodes. But cast member Kyle came up with this episode the same way they all come up with the other ones: The more outrageous, the better. Marlin and Lemon try online dating as part of a dare, but then unknowingly get matched up with each other.
Episode 39: Sweat and Toil (Halo 3)
Edit
This episode details Marlin and Lemon Man swimming in a lake on a hot day. However, the owner of the lake tries to kill them for trespassing. Eventually, Lemon Man and Marlin run him over, and return to the Pit with nothing to cool them down.
Episode 40: Southern BBQ (Halo 3)
Edit
Marlin's Grandma and Grandpa are having a southern BBQ. But the souther BBQ goes south when Lemon Man and Cotton Swab get in a fight. They end up liking each other though, and all is well.
Episode Chronology: Season 5
Edit
Episode 41: Target Practice (Halo 3)
Edit
Because Cotton Swab was in the army, he knows a great shooting range for target practice, so he takes Marlin and Lemon Man there. While he a Lemon Man are doing great, Marlin is accidentally killing all of the instructors because he got scared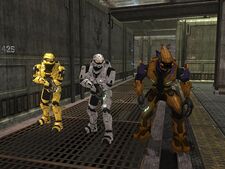 Episode 42: Birthday Surprise (Halo 3)
Edit
Marlin and Lemon Man take Cotton Swab to space for his birthday, where a Space Terrorist threatens to board them.
Episode 43: Space Invasion (Halo 3)
Edit
The Space Terrorists were overtaken by Space Pirates, who captured Marlin, Cotton Swab and Lemon Man and made them walk the plank. However, they were rescued by Space Cowboys and were teleported back to Earth by Space President Space Obama.
Episode 44: Down at the Docks (Halo 3)
Edit
Cotton Swab takes Marlin and Lemon Man to his Uncle Fronk's fishing company headquarters, where Fronk is low on money and business, because a vaccuum is sucking up all of the fish. Marlin sells lemonade to make extra money, which he stores in a large box that he accidentally pushes into the water. However, the box plugs up the vaccuum and the fish return.
Episode 45: Hunting Practice (Halo 3)
Edit
Estabon, a hunter, challenges Marlin and Lemon Man to a hunting challenge. Estabon loses.
Episode 46: House Service. (Halo 3)
Edit
As revealed on TPCast #59, this episode was the first one filmed for season 5, although it is being shown over halfway through the season. Marlin's address is mistaken for an old man's address, and so nurses end up taking care of him.
Episode 47: The Orange Confusion (Halo 3)
Edit
Marlin is mistaken for the producer of the band Saturday's Schedule. He is asked to fix their bass amp, which he miraculously does.
Episode 48: The Bodyguard (Halo 3)
Edit
Marlin becomes a bodyguard for famed politician Barney Gorgeous, but accidentally allows him to die.
Episode 49: I See Marilin, I See France (Halo 3)
Edit
A French ice cream salesman is given a role in Slumdog Mcbillionaire. He goes to the pit to study how to be a slum and takes notes on what Marlin does.
Episode 50: Galacticon (Halo 3)
Edit
(Fan episode 2)
Cotton Swab gets tickets to Galacticon and brings Lemon Man and Marlin along. And when the new sidekick of Galactic X is revealed Marlin and Lemon Man realize it's Cory von Sexy, who took the part to get revenge on the three. Before he does so Jerry a.k.a satan from the episode H3ll and everyone else at Galacticon try to kill him. When Cory gets to the exit Marlin's grandparents are there and try to kill him also. Then all the people t-bag him.
Episode Chronology: Season 6
Edit
Episode 51: Getting Schooled (Halo 3)
Edit
Lemon Man brings Marlin and Cotton Swab to his high school reunion, but when he discovers that he missed it, he shows them around the campus instead. Cotton Swab and Marlin are then inspired to show him their schools.
Episode 52: End of an Area (Halo 3)
Edit
A health inspector comes to take a look at the Pit, but is killed by deadly viruses in the community bathroom. The mayor is forced to relocate the Pit's population, including Marlin, Lemon Man, and Cotton Swab.
Episode 53: Alpine Springs (Halo Reach)
Edit
Marlin, Lemon Man, and Cotton Swab get to their new home and meet a rich man named Schmo who owns two jet-packs. Marlin wants to try it out but Schmo says no but, later that night Marlin takes it for a flight and becomes lost. Then Schmo, Cotton Swab and Lemon man look for him and find him.
Episode 54: Dental Dilemma (Halo Reach)
Edit
Marlin discovers that his teeth have become much larger than they used to be. Lemon Man takes him to see a dentist, where said dentist informs Marlin that the growth of his teeth was stunted by desises during his stay in The Pit. Marin, Lemon Man, and Cotton Swab then get a check-up to make sure they are not infected. When asked to pay, all three of them run out, effectivly doing a "doc-and-dash".
Episode 55: O Christmas Tree (Halo Reach)
Edit
Marlin realises it's Christmas Eve and wants to decorate for the holidays. He finds a tree and tries to chop it down with Lemon Man and Cotton Swab's help, but is unsucessful. Just when all hope is lost, Cotton Swab remembers the tree in his house and suggests they decorate that instead. They go inside and have fun decorating, but not before the tree they were trying to cut down falls on Marlin.
Episode 56: An Elite Walks Among Us (Halo Reach)
Edit
Marlin wakes to find items in his house with no knowledge of how they got there. Each morning, more and more items appear. Lemon Man suggests he takes a spiritual journey, and so Marlin walks into a cave where he meets a genie. The genie helps Marlin to discover that he has been sleepwalking, and stealing items from a store to bring back to his house. Marlin and the genie then must quickly escape, as they find out that the cave actually belongs to the Alpine Spring Community Hobos.
Episode 57: Big Spenders (Halo Reach)
Edit
When Marlin misses his Brute Shot, Lemon Man takes him to find a new weapon. He gets a Concussion Rifle, and meets a man who has Armor Lock. After learning about Armor Abilities, Marlin, Lemon Man, and Cotton Swab go test out Armor Abilities in a virtual world. They are pitted against an AI robot who they have trouble defeating until they all pick Sprint, so they all go home with that Armor Ability.
Episode 58: One Way Trip (Halo 3 & Halo Reach)
Edit
Grandma and Grandpa decide to visit Marlin in the Pit, but when they see it has been exploded and they have been exposed to its viruses, they are moved into a new home in Alpine Springs. Grandma then goes to visit Marlin in his new house.
Episode 59: Funny with the Devil (Halo Reach)
Edit
Jerry (the ex-devil) tries to do stand-up comedy after he's fired from his job at Subway. Marlin lets him stay at his house until he finds his own house in Alpine Springs.
This episode was premiered during the 2011 live TPCast.
Episode 60: Off Course (Halo Reach)
Edit
While hiking with Lemon Man and Cotton Swab, Marlin gets lost in the wilderness. He stumbles upon a powerhouse run by Dr. EvilO, who makes his workers work until they die. When the cops come looking for Marlin, they arrest EvilO and reunite Marlin with his friends.
Episode Chronology: Season 7
Edit
Episode 61: Something Old, Something New (Halo Reach)
Edit
Cotton Swab's old SWAT team has been reactivated to find an escape prisoner, who turns out to be Cory Von Sexy. When Cory escapes from a prison, he hatches his most brilliant plan yet to kill Marlin. He seduces Marlin's grandma, and when Marlins visits her house, he finds out Grandma plans to marry Cory the next day. Marlin returns to find Grandpa at his house, where they try to think of a way to stop the wedding. During the ceremony, Grandpa uses Marlin's Concussion Rifle to blow Cory off the edge of a cliff, where he is arrested by Cotton Swab's SWAB team. Grandma and Grandpa get back together.
Note: This episode was leaked three days prior to release. It was uploaded on YouTube for just a few moments before it was taken back down.
Episode 62: Fair is Fair (Halo Reach)
Edit
Lemon Man goes to a county fair to participate in a pie-eating contest. Marlin goes along with him. Before the contest begins, Marlin goes on a ride through a haunted cave. Lemon Man finds out his competitor in the contest is Fat Ronald, a veteran pie-eater. During the contest, Marlin tries to win a new Warthog by playing a game where he throws balls at a cone, trying to knock it down. The game is rigged, so Marlin does not end up winning the Warthog. Lemon Man surprising beats Fat Ronald in the pie-eating contest.
Episode 63: Roughin' It (Halo Reach)
Edit
Marlin's grandpa invites Marlin to go camping with him, so they can bond "roughin' it" in the wild. While camping, they fail to find any food. Marlin sees a film crew taping an episode of "Bear vs. Wild", a reality TV show where the host Bear Trap shows people how to survive in the wild. The show is fake, however, because Bear Trap does not actually do anything he says he will do. Marlin follows the film crew to a pancake house. Grandpa finds him there, and is disappointed that Marlin wanted to eat at a restaurant instead of roughing it, but he forgives Marlin.
Episode 64: A Super Day (Halo Reach)
Edit
While at a doctor check-up, Marlin learns that he has superpowers. He wants to do good deeds as a superhero, so he tries to help an old lady cross the street. She does not want help and is ran over by a car. Marlin makes himself a superhero costume and attempts to figure out what his superpower is. He first goes to Schmo's castle and asks Schmo if he can get a news crew watch him save Schmo from a staged crime. Schmo tells Marlin he should protect more important places. Marlin goes to a bank to try to stop a bak robbery, which does not actually happen until Marlin leaves the bank. He later gets a call from his doctor, who admits he messed up his tests: Marlin is not actually a superhero. He also admits he is not a real doctor.
Episode 65: Get a Clue (Halo Reach)
Edit
The gang has won free tickets over the radio to a heavy metal show at The Lumpy Goose club. The band, I Hope We All Die, elects to play a song in the dark, but before the song starts, the singer is murdered. An undercover cop at the show decides to take in 3 suspects: a hater of the band, the band's drummer, and Marlin. Cotton Swab teaches Marlin what to do in an interrogation. During Marlin's interrogation, he finds out the undercover cop is actually the murderer. Cotton Swab uses a rocket launcher that the band's hater has to blast the murderer/undercover cop as he escapes the venue on a Falcon.
Episode 66: I Spy (Halo Reach)
Edit
Agent Italiano, the British Spy, drags Marlin into one of his missions when he seeks refuge in Marlin's house. Italiano's old partner-turned-nemesis, Agent Willis, kidnaps Marlin and holds him hostage. Italiano and Marlin work together to defeat Willis and escape.
Episode 67: R&R (Halo Reach)
Edit
Marlin visits a spa with a massage parlor. While in the sauna, he meets another Elite named Rourke, who is, at the time, naked. Marlin reports Rourke, who is subsequently sent to jail. Marlin causes other havoc in the spa by trying to give a massage and peeing in a pool.
Episode 68: Irresistible Deal (Halo Reach)
Edit
Marlin, Lemon Man and Cotton Swab hear about a new hotel that will, for a limited time, let people stay for free. They decide to check it out. Lemon Man goes to the pool, but after being there for too long, Cotton Swab and Marlin decide to go see what is taking him so long. Upon discovering that he has been turned into a zombie, they follow him and find out that the evil Dr. Zumpkin is behind it all. Dr. Zumpkin agrees to cure Lemon Man, and after trying to escape, he is sent to jail.
Episode 69: The Revengers (Halo Reach)
Edit
Dr. Zumpkin is placed in a jail, where he meets Rourke (from episode 67) and Cory von Sexy. The three men discover that they are all in jail because of Marlin, so they decide to break out and exact revenge. They easily escape, but find trouble on the roof of the jail. They manage to defeat the guards on the roof, and fly in a Falcon towards Alpine Springs to get revenge.
Note: Voice recording of this episode was delayed due to illness. However, it was still released in its target month of May.
Episode 70: A Sexy Revenge (Halo Reach)
Edit
The episode begins with Marlin, Cotton Swab and Lemon Man having fun a trampoline. That night, Cory, Dr. Zumpkin and Rourke take over Schmo Castle and kidnap Marlin. They force him to walk off a plank off the edge of the cliff where Schmo Castle sits. Marlin walks off but lands on the new trampoline. Cotton Swab and Lemon Man then use a Falcon to cause an avalanche on top of the cliff that kills Dr. Zumpkin. Cory jumps off the cliff and is taken away by Rourke in a Falcon. This episode serves as the season finale and ends with Cory living to fight another day, with Marlin, Cotton Swab and Lemon Man continuing to have fun on the trampoline.
Episode Chronology: Season 8
Edit
Episode 71: Takes the Cake (Halo Reach)
Edit
Lemon Man invites an old classmate to his house: Scott Lesley, member of the Channel 7 Action News team. After tasting some of Lemon Man's lemon cake, Lesley insists that F'Andre appear on one of the channel's cooking segments. Eager to get involved, Marlin comes along. Dispite wanting to help on stage, Marlin is forced to play the part of the studio audience by Lemon Man, who does not want to Marlin to embarras him. The cooking segment starts, and Lemon Man begins to prepare the dish by turning on a gas stove. Only then does he find out that Marlin took his spices in order to get involved in the show. Marlin tries to throw the spices to Lemon Man, but throws a grenade instead, causing a huge explosion. Days later, Lemon Man reprimands Marlin for ruining everything, unaware that the explosion caused the Action News team to win a Daytime Award for Best Pyrotechnics.
Episode 72: Self-Help Gentleman (Halo Reach)
Edit
Cotton Swab is having war flashbacks, so he asks Marlin to accompany him to see an inspirational speaker. Upon arriving, they find out that the speaker got run over and had to be replaced by a man named Bob Woods. Woods calls Marlin on stage to use as an example. Believing that Marlin is in desperate need of his help, he follows him back to his house after the seminar. Eventually, Marlin agrees to have Woods try and make him "the best he can be", and in exchange, Marlin will get a new Warthog. Many hours later, Marlin has been completely transformed into a gentleman. Lemon Man and Cotton Swab are shocked at the change, and want the old Marlin back. In an attempt to be "the best he can be", Marlin accidentally drives off of a cliff, running over Bob Woods in the process. When Marlin recovers, he is back to his normal self, and concludes that he was "the best he could be" all along.
Episode 73: Hazard Zone (Halo Reach)
Edit
Marlin is sitting in his house when he hears an ice cream truck. He runs outside, but when the truck doesn't stop, he gets on his mongoose and chases after it. After the ice cream truck drives off a cliff, Marlin finds himself in a construction site. He is mistaken for one of the workers and is ordered to get back to work. Marlin tries to operate a crane, but falls off. He then tries to run an errand for the boss, but drives into fusion coils and explodes. After being denied a lunch break, Marlin looks for something to do in order to be useful. He tries to hammer a wall into place, but it falls and crushes the workers eating lunch below. Days later, back at home, Marlin hears another ice cream truck, but like the last one, it doesn't stop for him. Marlin chases the truck into the ocean.
Episode 74: The Big Race (Halo Reach)
Edit
Marlin wakes up in the middle of the night and goes the the fridge for something to eat. When he discovers that there's nothing there, he drives to a grocery store. Outside, he hears loud noises, and discovers that there's an underground racing ring that's having a race. Eager to join, Marlin goes to the judge and asks to participate in the next race, which is being held the following night. Also participating in the race is the "Purple Warrior," racing champion, and the "Green Menace," a former champion who is looking to reclaim his title. The race starts, and by the end of the third lap, all the racers except Marlin and the Purple Warrior have crashed. Only after finishing the race does Marlin discover that the Purple Warrior is actually Grandma, trying to make an extra buck for her retirement.
Episode 75: Cruise Ship Vacation (Halo Reach)
Edit
Lemon Man's brother gives him three tickets to a cruise as a Christmas present. He decides to bring along Cotton Swab and Marlin. They board the ship, helmed by Captain Carthwright Whellingswater, and are given a tour around. The three go to bed, but are awoken early by a sudden jolt. The whole ship is tilted sideways, and the three must evade falling crates and debris to get out. Once above deck, they see that the ship has crashed, and jump onto a floating crate. Eager to escape, Captain Whellingswater does the same, but ultimately falls into the water and dies. Hoping that there are rescuers nearby, Cotton Swab shoots his gun into the air to try and signal them. Three rescue Falcons come, but two of them crash, so the remaining Falcon has to make multiple trips. They make it out just in time before the ship explodes. They are dropped off on a giant rock spire in the middle of the water before the last Falcon pilot loses control and crashes into the water. Stranded, Cotton Swab signals Schmo to come pick them up.
Episode 76: An Unexpected Tourney (Halo Reach)
Edit
Alpine Springs wins the bid to host the 2013 Olympics, and Marlin competes in a few trial competitions: High Dive (he backs out of High Dive at the last second), Explosive Shot Put (Marlin throws it very high but not very far), and Long Jump. He does well enough in that event to make the Olympic team, as long as he provides a clean urine sample. On the day of the event, Marlin, who is representing Alpine Springs in Long Jump, he jumps far, however, a Jamaican jumps even farther (to the end of the pit) and a Kenyan jumps way over the pit and wins. Even though Marlin came in last place in the event, he does find out he had the cleanest and "best-tasting" urine.
Episode 77: Master Marlin (Halo Reach)
Edit
When Marlin sees someone on a roof, he believes that person will attempt to commit suicide. He goes up to the roof to try to save him, but ends up scaring him off the roof. The man, who was actually just trying to have a secret cell phone conversation, falls to his death. He was the leader of an odd group of people who follow odd rules, and Marlin, having just killed their leader, becomes their new leader. He has fun taking advantage of being the leader of what he assumes is a group of people just having fun, but soon finds out they are a cult that seriously plans on killing Schmo. Marlin resigns and appoints a new leader to the group.
Episode 78: Go Big (Halo Reach)
Edit
When Marlin causes a vehicle accident in a shopping area, he has to pay for all the damage. Because he has little funds, he has to think of ways to raise money. First, he tries begging for money over the phone, then on the street, and then goes to a bank and asks for money. The bank teller believes he is attempting to rob them, so he calls the police. Finally, Marlin secures a sponsorship to pull off a crazy stunt: jump a Warthog over the crash he caused. He fails to clear the jump, and ends up having to pay for not only the damage to the vehicles but also the stunt he attempted. Schmo offers to pay Marlin's debt for him, as long as he washes Schmo's Falcons for a year. Marlin accepts.
Episode 79: Baking Bad (Halo Reach)
Edit
Cory Von Sexy and Rourke kidnap Lemon Man, forcing him to make lemon cake all day in a giant "Super Kitchen." Cory and Rourke sell the lemon cake in an attempt to raise enough money to buy the Alligator, a superweapon they can use to blow up Alpine Springs, finally ridding themselves of Marlin the Elite. Meanwhile, Cotton Swab notices that Lemon Man has gone missing, so he gets Marlin and his SWAB team to search for him. Marlin finds an address on a suspicious Lemon Cake Mix package, and so he, the SWAB team and Cotton Swab head there in an attempt to rescue Lemon Man.
Episode 80: Later, Alligator (Halo Reach)
Edit
Rourke informs Cory Von Sexy that they have enough funds to buy the Alligator, so they do so. Cotton Swab storms the Super Kitchen, and Lemon Man is left injured in a firefight that lets Cory and Rourke escape. Some SWAB team members fly Lemon Man to safety. Meanwhile, the Alligator is delivered to the hideout that contains the Super Kitchen. Marlin and Cotton Swab accept the Alligator. They get in a Falcon and find Cory and Rourke in another one. Marlin tries to use the Alligator to take out Cory and Rourke's Falcon, but instead blows it up with a grenade. Cory falls to the ground, but Rourke's body is left undiscovered. Cotton Swab and Marlin then blow up the Super Kitchen and the rest of the hideout, and return safely to their homes in Alpine Springs.
Episode Chronology: Season 9
Edit
Episode 81: The Arrival (Halo Reach)
Edit
Marlin, Lemon Man, and Cotton Swab go out for a fun day at the beach, but come across a mysterious teleporter that shoots out hazardous material and random junk. They convince Schmo to go through it to investigate, but when he fails to return, they try to warn others against doing the same. The Mayor of Alpine Springs commends them for their efforts.
(This episode began the Teleporter storyline, which is carried through out many episodes in seasons 9 and 10).
Episode 82: Swab Job (Halo Reach)
Edit
Cotton Swab loses his position on the SWAB Team and, with Marlin's help, tries to find a job. He looks into a construction job for a new fast food restaurant called "Juicy Phat," but decides against taking it after learning about the crew's poor safety practices. Meanwhile, Marlin gets involved with a group of people protesting the restaurant. Upon its grand opening, they convince Marlin to order water at the restaurant and throw it on the server as a protest. Marlin is served by Cotton Swab, who had to take a job there out of necessity. Marlin doesn't go through with it and rides off crying. Cotton Swab then serves Round Chuck–the CEO of Juicy Phat–a large order of food, which he will eat on camera to demonstrate its quality. He immediately dies after taking a bite. Cotton Swab is readmitted to the SWAB Team for his part in the ordeal, but is then put out of work again due to a government shutdown.
Episode 83: Black Friday (Halo Reach)
Edit
Marlin and Lemon Man wait in line to get the new "O-Tablet." They are accused of cutting the line, and then subjected to line-cutters themselves. Marlin is even forced to go pee in line in order to save their spot. The store hires a DJ by the name of "DJ Upload" to play music for the event. His song is so long and repetitive that it drives the people in line to attack him. The riled-up customers then decide to raid the store and forcibly take the tablets. As an act of revenge, DJ Upload drives a warthog into the store and blows everything up. Marlin and Lemon Man do not get a tablet.
Episode 84: Grand Theft Grandma (Halo Reach)
Edit
Marlin and his grandparents are confronted by a street magician named "Bingo Bango the Boingo Bungalow Boy" who wants to perform a trick for them. Marlin selects Grandma to participate in the trick because she was his "second favorite grandparent." The magician gives Grandma instructions for the trick and then makes her seem to disappear. The trick is so convincing that Marlin gets upset and wants her to reappear. Bingo takes Marlin and Grandpa to the spot he told Grandma to hide, but she's not there. Marlin gets mad and uses his plasma pistol to stun Bingo. At the police station, Bingo is interrogated by Marlin, but he doesn't know where Grandma is. Bingo is ultimately arrested for practicing magic without a license. Convinced Grandma is gone for good, Marlin and Grandpa head home, only to find Grandma there. She had taken off on her own because she felt under appreciated by Marlin. The two make up and everyone is happy... except for Grandpa, who was hoping he could finally get a new wife.
Episode 85: Man-Off (Halo Reach)
Edit
The Mayor of Alpine Springs decides the mysterious teleporter needs to be investigated. He holds a competition to find the manliest person, who will go through the teleporter to discover where it leads. Marlin competes against Jerry Cripes and a random guy named Huffington Boast in a series of challenges: a foot race, hide-and-go-seek, and a trivia question. The Mayor is infatuated with Jerry and selects him as the winner. Jerry tries to go through the teleporter, but he can't. Marlin then tries, but he fails as well. It is determined that for some reason, Elites can't go through. Huffington is crowned winner by default and successfully goes through the teleporter. He never returns.
(This episode continues the Teleporter storyline, which began with episode 81.)
Episode 86: A Fool's Gold (Halo Reach)
Edit
When Marlin tries to have a hot tub put in his back yard, an excavator discovers gold under the property. Because of the new value of his property, Marlin's house is featured on the housing reality show "Property Battlez 2: Dreamz Come True." Two people (Khemistry Josh and Joseph Tostito) attempt to win the house in an auction. Joseph Tostito wins, but Marlin gets hardly any money due to the TV network's take. Lemon Man discovers what's going on, and reveals that the "gold" under the property is actually frozen pee from the house's septic tank. Tostito sells the property back to Marlin.
Episode 87: Close Encounter (Halo Reach)
Edit
Marlin is abducted by aliens and held captive aboard their ship. Led by an alien named Jimbo Jamboon, they ask Marlin what the mysterious teleporter in Alpine Springs is for, since it's energy has been interfering with their alien brains. When Marlin admits he doesn't know, he is locked away with another prisoner. Marlin is able to get free and detonate some of the ship's equipment, allowing him to escape from the ship. Safely back home, no one believes Marlin's story.
(This episode continues the Teleporter storyline, which began with episode 81.)
Episode 88: Warm Reception (Halo Reach)
Edit
Marlin's TV service is interrupted, and calls for a cable technician to come by. The cable guy, Larry, fails to come by three times before finally showing up at Marlin's house in the middle of the night. Larry says the TV interference can be fixed by installing a brand-new satellite dish to replace Marlin's old antenna. After the installation, Larry reveals that Marlin must upgrade his cable package to use the dish. Despite Marlin's request, Larry won't take the dish down, so Marlin attempts to do it himself. The large dish collapses onto Larry and hits the old TV antenna, causing it to work again.
Episode 89: Land of Tomorrow (Halo Reach)
Edit
Marlin, Lemon Man, and Cotton Swab visit the theme park "Land World" for the grand opening of a new section of the park: "Somedayland." Lemon Man explores "Yesterdayland," while Cotton Swab takes a look at "Todayland." Both of them have negative experiences, including underwhelming attractions and price gouging. Meanwhile, Marlin takes a tram ride to Somedayland, but the car gets stuck half way there. As one of the workers attempts to reach the tram, the car shoots into reverse and derails on the end it came from. The gang leaves Land World incredibly disappointed.
Episode 90: No Way Back (Halo Reach, Halo 4)
Edit
In order to secure his reelection, the Mayor of Alpine Springs launches an investigation to discover the origins of the mysterious teleporter. Accompanied by his aid Squish, the mayor questions those who have come into contact with the teleporter, including Jerry, Marlin, Jimbo Jamboon, Cotton Swab, and Lemon Man. Marlin's grandparents and Cory Von Sexy are also questioned. Fed up with inaction, Lemon Man volunteers to go through the teleporter and return with answers. He discovers that the teleporter leads to The Pit, which has been partially reconstructed.
(This episode continues the Teleporter storyline, which began with episode 81.)
Episode Chronology: Season 10
Edit
Episode 91: The Enemy (Halo 4, Halo Reach, Halo 3)
Edit
Lemon Man arrives in The Pit and discovers it's being rebuilt by the Mayor of the Pit: Richard Diculous. After the Pit was destroyed (in episode 52), the Mayor realized how peaceful it was without Marlin around, and decided to rebuild. He offers Lemon Man his old house. While exploring, Lemon Man runs into Schmo, who informs him that the Mayor is keeping everyone in the Pit against their will. Lemon Man tries to return through the teleporter, but is stopped by an armed guard. Lemon Man confronts the Mayor and demands to travel back to Alpine Springs. Diculous refuses, explaining that Marlin can't find out that the Pit still exists; he would surely try to find a way back to his old house. The Mayor created the elite-free teleporter as a way of disposing of hazardous materials, and what better place to dump them than in Marlin's new hometown. Diculous threatens that if Lemon Man is caught trying to go through the teleporter again, he would be killed.
Meanwhile in Alpine Springs, Lemon Man has been gone for over a week, and Marlin is looking for a new friend to replace him. One applicant claims to make really good toast and comforts Marlin. Marlin names him Dr. Toast and hires him as his new friend. A while later, Dr. Toast reveals that he isn't that great at making toast. He attempts to move into Lemon Man's house, which makes Marlin angry and upset. Marlin fires Dr. Toast, who runs off. Cotton Swab comforts Marlin, and explains that no one can really replace Lemon Man.
In The Pit, Lemon Man decides he has to find a way back to Alpine Springs.
(This episode continues the Teleporter storyline, which began with episode 81.)
Episode 92: The Masquerade (Halo Reach)
Edit
Marlin get's an invitation to go to a ghost-themed Halloween masquerade party at a fancy mansion. Upon arriving he plays bobbing for apples, participates in a performance of Frankenstein, and feasts at a giant banquet. A raffle is held, and it is revealed that the prize is Marlin; everyone else at the party is an actual ghost, and hoping to win a new body to inhabit. Marlin is chased around the manor, and is able to get away by shooting a fusion core containing the essence of all the ghosts. He decides not to go to another Halloween party, at least until next year.
Episode 93: Coming and Going (Halo 4, Halo Reach)
Edit
Lemon Man's brother, B'Antonio, shows up in the Pit looking for a construction job. Lemon Man warns B'Antonio that mayor is crazy and keeping people against their will. The Mayor of the Pit has a quick talk with Lemon Man, warning him not to try anything. Suspicious, the mayor has someone tail Lemon Man. Lemon Man enlists the help of B'Antonio and and Schmo's jet pack to lose the guard and stow away in a garbage crate, which is disposed of through the teleporter. In Alpine Springs, the crate flies out of the teleporter and smacks into Marlin. Marlin is relieved to see Lemon Man again.
(This episode continues the Teleporter storyline, which began in episode 81.)
Episode 94: Shady Business (Halo Reach)
Edit
Marlin and Cotton Swab go to an Italian restaurant. Marlin goes into a back room searching for a bathroom when he runs across a mob boss discussing business. The restaurant was just a front for his mafia business. The boss, Don Maglioli, believes Marlin's heard too much and wants to do away with him. Instead, he decides to have Marlin kill an enemy of his, Johnny Karane the Karate Johnny. Karane gets the jump on Marlin and kills many of Maglioli's men. Maglioli's bodyguard, Roly Polio, reveals that he's an undercover agent working with Karane, and kills Maglioli. Marlin returns to the oblivious Cotton Swab, and they leave the restaurant dissatisfied.
Episode 95: The Rescue Party (Halo 4, Halo Reach)
Edit
Lemon Man and Cotton Swab head through the teleporter to rescue B'Antonio and Schmo in the Pit, while Marlin is tasked with guarding the teleporter in Alpine Springs. Lemon Man has a duel with the mayor of the Pit, Richard Diculous. Diculous is knocked through the teleporter and, while Marlin is distracted, runs off in Alpine Springs. B'Antonio decides to become the new mayor of the Pit, while Schmo, Cotton Swab, and Lemon Man return to Alpine Springs.
(This episode continues the Teleporter storyline, which began in episode 81.)
Episode 96: Gramps Gone Wild (Halo Reach)
Edit
Marlin's grandpa realizes that he's really old and goes through an "end-of-life" crisis. He buys a new revenant, starts working out, and goes to a metal concert with Marlin. When Grandma discovers that he's bought tons of other non-returnable vehicles, she destroys them out of frustration. Grandpa realizes he's been using material possessions to distract himself from his mortality and vows to make it up to Grandma.
Episode 97: Battleground (Halo Reach, Halo 2 Anniversary)
Edit
Cotton Swab shows Marlin a new SWAB Team base that was built on leased land. Marlin meets SWAB Team members Colonel Cranberry and Private Percy Parts. An alien ship appears and deploys troops, which surrounds the base. The alien leader, Bidigial Consiqualio, demands VHS copies of all Denis Quaid movies. Unable to comply, the alien troops attack. SWAB Team reinforcements to try and repel the assault but fail. Cotton Swab, Marlin, Cranberry, and Parts hide in another building and identify the alien field commander: Jimbo Jamboon. Marlin recognizes him as his abductor (from episode 87), and is persuaded to negotiate with him. Jamboon discloses that Consiqualio wanted the same land, but was unable to secure the lease, and now desires Denis Quaid movies to sooth his anger. Private Parts is sent to an alien ship to meet with Consiqualio. Parts offers him a time share deal and a VHS of a Denis Quaid movie. The deal is accepted, the aliens leave happy, and Private Parts is promoted to Corporal.
Episode 98: State of Emergency (Halo Reach)
Edit
A huge storm rolls into Alpine Springs, forcing Marlin and Lemon Man to seek shelter in an underground bunker. Another resident–who is obsessed with social media and Illuminati conspiracies–insists that Marlin leave the bunker to repair a damaged antenna. Upon exiting, Marlin finds that the rain has stopped, prompting Lemon Man to leave the bunker as well. It immediately starts to rain again; the dry weather was just the eye of the storm. Marlin and Lemon Man are locked out of the bunker, forcing them to seek shelter in Marlin's house. The strong winds rip the house up into the air, and blow it all the way to a tropical beach, where Cotton Swab is vacationing. Weeks later, Marlin nails his house back into place, and discovers that the bunker was destroyed by the storm, killing everyone still inside.
Episode 99: The Scourge (Halo Reach, Halo 2 Anniversary)
Edit
Former mayor of the Pit Richard Diculous goes to a meeting of the Mayors, where he is disgraced by the mayors of Alpine Springs and Headlong. Cory von Sexy shows up and selects Diculous to help him destroy Marlin with an extravagant plan: use a spaceship to create a synthetic black hole to suck away the entire planet. Aboard the ship, Rourke and nerd-for-hire Chadway Billingsworth assist as Diculous is put in charge of aiming the beam. Meanwhile in Alpine Springs, two of Cory's 1,000 secretly goth girlfriends plant cameras in Marlin's house so Cory can safely view Marlin's destruction. They are caught by Marlin and Lemon Man, but pretend to be maids to maintain their cover. Lemon Man is suspicious, but Marlin lets them clean and complements them.
Aboard the spaceship, the firing sequence is initiated right before Cory sees that his two girlfriends are still in Marlin's house. Unable to stop the sequence, Cory and Rourke head to Marlin's house to rescue them. However, they refuse to leave until they discuss their relationships with Cory. To save their lives, Cory orders Diculous to aim the ship's beam away from the planet. The black hole is created in open space and sucks in the ship before dissipating. Having received complements and attention from Marlin, the two girlfriends realize that Cory was a horrible boyfriend, and break up with him. They hit Cory in the balls, and scare Rourke off. The two girlfriends thank Marlin and Lemon Man, before going off to find real boyfriends.
Episode 100: Long Story Short (Halo Reach)
Edit
Cotton Swab takes Marlin and Lemon Man along to a book store to visit author Dean S. Johansen. When Marlin learns about the money Johansen makes from his book, Marlin is inspired to write an autobiography. Months later, Marlin has completed his book and holds a signing at the book store. He is visited by Corporal Parts, Agent Italiano, a movie director/producer, Jerry, and Snot (who has now become the new Devil). Marlin is then visited by Devon Pierce, a lawyer who represents the estates of all the people Marlin's killed over the years. When he threatens Marlin with a lawsuit, Marlin runs away to a tropical island, where he finds his grandparents. Grandma encourages Marlin to face his problems instead of running from them.
In an effort to seek legal help, Marlin has a visit with Snot's lawyer, who has gotten Marlin a raw deal. Marlin rejects the lawyer and goes back to the bookstore to work things out on his own. Pierce offers to settle the case out of court for a huge sum of money, which Marlin doesn't have. However, after a stroke of genius brought on by Cotton Swab, Marlin sells his book's film rights to the movie director/producer he met earlier. The sale gives Marlin enough money to settle the lawsuit, and the situation is resolved.
Marlin the Elite: The Movie (Halo Reach, Halo 2)
Edit
On September 4th, 2015, Thomas Productions announced that they would be focusing their efforts on a Marlin the Elite movie, rather than going forward with another season of episodes. The movie was originally scheduled for a 2016 release, but was pushed back a year. The movie was released on November 17, 2017, and subsequently featured on Halo.Bungie.org and Halo Waypoint.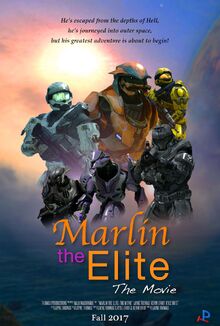 Synopsis (contains spoilers!)
Edit
The film picks up after the events of Marlin the Elite Episode 100. Marlin, Lemon Man, and Cotton Swab return home after seeing an action-packed, completely unrealistic movie adaptation of Marlin's autobiography. Marlin has dinner with Lemon Man and his parents, who ask Marlin about his mother and father. Marlin shrinks away from the conversation and goes to visit his grandparents, who he asks about his parents. It's revealed that Marlin never knew who his parents were, and wishes he had some like Lemon Man. Marlin's grandparents deflect his questions by telling him he was adopted, and Marlin leaves.
On his was back home, Marlin is chased by a strike force posing as police. Led by a mysterious man known only as "The Gigabuster," they follow Marlin back to his house and confront him. The Gigabuster offers Marlin the chance to meet his parents, but before Marlin can take him up on the offer, Lemon Man and Cotton Swab rescue him. Marlin fills Lemon Man and Cotton Swab in on the situation, and they agree to help Marlin find his parents. The three go to see lawyer Devon Pierce, who was able to procure a highly-redacted version of Marlin's birth certificate. Devon informs them of a government facility where they might be able to get an unredacted version. While Cotton Swab heads to the library to search their public records, Marlin and Lemon Man go to the government facility. The sneak in through an air vent and gain access to the birth certificates.
Meanwhile, the Gigabuster checks in with his boss: Scarkilligan. Scarkillican is displeased with the Gigabuster's failure to capture Marlin, and threatens to hire someone else to do the job. He gives the Gigabuster one last chance. Anticipating Marlin's next move, the Gigabuster goes to the government facility to lay in wait. Little does he know that Marlin has already snagged his birth certificate and is making a hasty getaway. After a close encounter in the elevator, Marlin and Lemon Man narrowly escape capture. They relay names and address of Marlin's parents to Cotton Swab, who advises them to check out their house.
Marlin and Lemon Man arrive at the address from the birth certificate. Marlin decides to stay in the car, too nervous at the prospect of meeting his parents, while Lemon Man goes into the house to break the ice. Upon entering, Lemon Man discovers that the house is rigged with explosives. They detonate, and the house blows up. Marlin is horrified, and presumes Lemon Man is dead. He tries to call Cotton Swab, but has no luck.
Marlin goes to a bar to drink away his sorrows, where he runs across Cory Von Sexy singing karaoke. They strike up a conversation, and Cory offers to help Marlin find his parents, claiming to know a guy who can help. Marlin excitedly accepts his offer, and two drive off together.
At the library, Cotton Swab is ambushed by a henchman who tries to kill him. Cotton Swab disarms and interrogates him. The henchman boasts that Cotton Swab played right into their hand and sent Marlin and Lemon Man to their doom. Cotton Swab furiously demands to know where Marlin is.
Cory Von Sexy and Marlin arrive at their destination: Scarkilligan's snow base. To Marlin's horror, it's revealed that Scarkilligan hired Cory to bring Marlin in after the Gigabuster's failure at the government facility. Cory's tactic was to alienate Marlin from his friends by killing them, allowing himself to fill the void and earn Marlin's trust. In return, Scarkilligan promised that Cory could kill Marlin after he was done with him. Scarkilligan then reveals that he has captured Marlin's parents: Archangeles Dya and Oprahh Rea, who are both genius scientists that know secrets about government weapons technology. Scarkilligan takes Marlin to his parents, hoping to use Marlin as leverage to get them to talk, but has no luck. Cory becomes impatient and angry that he'll have to wait to kill Marlin.
The Gigabuster, attempting to make up for his failures and extract the information, beats Marlin and threatens him at gunpoint in front of Archangeles and Oprahh. Just as all hope seems lost, Cotton Swab and Lemon Man come flying in on a falcon. (Lemon Man was able to survive the explosion at the house by accidentally triggering a trap door, and falling into a secret lab hidden underneath the residence. Cotton Swab came to his rescue after he interrogated the henchman at the library.) The Gigabuster hurries to secure defenses and engage the falcon, allowing Marlin to embrace some newfound courage and rescue his parents.
Lemon Man and Cotton Swab bail out of the falcon and are searching for Marlin on foot, when they get pinned down by gunfire. Hearing their cries for help, Marlin takes a commandeered chaingun and rescues them. Reinforcements from the S.W.A.B. team arrive and engage Scarkilligan's forces. Marlin's parents seek shelter underneath a bridge, but they are ambushed by Scarkilligan, who has realized that only one of them needs to be alive to tell him the necessary information. Before he can strike, Cory Von Sexy kills Scarkilligan with a sword.
Hearing that his parents are in danger, Marlin rushes off to help. Lemon Man and Cotton Swab are then ambushed by the Gigabuster in a scorpion, and are able to defeat him by luring the tank off of a cliff. Marlin arrives at his parent's side and defends them with his own energy sword. Cory and Marlin duel until Cory has cornered Marlin at the edge of a cliff. Marlin jumps over Cory and sticks him with a plasma grenade. The detonation blasts Cory off the cliff, sending him screaming into the chasm below.
Marlin reunites with Lemon Man, Cotton Swab, Archangeles, and Oprahh. Marlin's parents explain that due to the threats posed by their line of work, they had long ago decided to leave Marlin in the care of Oprahh's grandparents to raise him. They ask for Marlin's forgiveness, which Marlin gives. Sometime later, Lemon Man, Marlin, and his parents happily sit down for dinner together in their reclaimed Headlong penthouse.
The movie and subsequent special features on the making of the film, can be viewed in a convenient
playlist
.
Soundtrack
Edit
As with the series, all-original music for the movie was composed by Layne, and released on its own as a soundtrack available for purchase.
01 - The Adventure Begins! (Marlin the Elite: The Movie Main Theme) 02 - Villain Theme
03 - Parent Theme
04 - A Daring Rescue
05 - The Need for Speed
06 - Dinnertime Drop-in
07 - Marlin's Question
08 - Wanted Alive
09 - Sunday Drivers
10 - Mind the Mines
11 - Marlin's Confession and Covert Observations
12 - Devon's Advice and Sinister Plans
13 - Smooth Operators
14 - The Archive Room
15 - Afraid of Elevators
16 - Library Records
17 - In Flames
18 - A Quick Exit
19 - Road Trip of Friendship
20 - Betrayal
21 - Reunion Under Duress
22 - The Cavalry
23 - Rescuing the Rescuers
24 - Tanks, Choppers, and Chain Guns
25 - A Hero
26 - The Duel
27 - Friends
28 - Forgiveness
29 - Home
30 - End Credits
31 - Theatrical Trailer Music
32 - Jovial Conclusion
My Gemini
Edit
For the bar scene, an original song called "My Gemini" was created by Kyle. Free downloads for two versions of the song were made available following the movie's release
Episode Chronology: Season 11
Edit
Episode 101: Food Forethought (Halo Reach)
Edit
Marlin visits the Juicy Phat fast food restaurant and encounters an online food reviewer filming a video. Marlin is shocked to discover that food reviewers can use their influence to get free food, and sets out to become one. He reviews a glass of water, which hardly receives any views. He then goes in the opposite direction by trying to cram himself with loads of food in a short amount of time. This not only causes Marlin to get sick, but the video receives only three views. Lemon Man convinces Marlin to stop doing food reviews, but not before Marlin records a himself going on a scathing tirade. The video goes viral, and sparks a social sensation.
Episode 102: A Very Secret Service (Halo Reach)
Edit
As a present to his parents, Marlin hires a bodyguard by the name of Razor America Machine to protect them. Upon visiting their house, Razor encounters a suspicious man. The two do battle, and Razor is killed. Marlin is horrified, but soon finds out that the suspicious character was actually a bodyguard that his parents had hired on their own.
Episode 103: Tales from the Casino (Halo Reach)
Edit
Lemon Man and Cotton Swab bring Marlin along to a casino. Afraid he'll get in over his head, they leave Marlin at the bar while they go off and gamble. Marlin orders some milk and talks with the disgruntled bartender, who fantasizes about robbing the casino's vault. The bartender abruptly leaves without getting Marlin his drink. Unattended, Marlin slinks off to play craps using the casino's explosive dice. One die fails to explode, and Marlin is allowed to keep it as a souvenir. While playing, Marlin catches the bartender inside the vault, and pesters him for a glass of milk, which alerts security. The bartender is caught, and Marlin is allowed to take some gold from the vault as a reward. Marlin throws his die for good luck, and it explodes the vault. Marlin is kicked out of the casino, and meets back up with Lemon Man and Cotton Swab, who are none the wiser.
Episode 104: Dick Picnic (Halo Reach)
Edit
Marlin and his grandparents go on a picnic, but are pestered by a homeless man for food. Grandma is reluctant to give up any of the dishes she worked so hard to prepare, but Grandpa allows the man to eat some. The man experiences tremendous gas and explodes. Grandpa reveals that he just wanted the man to test out Grandma's cooking first before he ate it himself. The three dispose of the man's body and give a brief eulogy.
Episode 105: Startapp (Halo Reach)
Edit
A tech company called Startapp builds their headquarters in Alpine Springs. Marlin and Lemon Man are flabbergasted to find out that their homes will be torn down for the company's parking lot, but are nevertheless given jobs. As new employees, they are given a tour of the headquarters, where they try out Startapp's latest project: a virtual reality game. Lemon Man is underwhelmed by the experience, but Marlin is entranced by it. He puts on the VR headset and haphazardly wanders into the company's server room. Marlin presses a button, and accidentally releases the unfinished VR game to the internet. The game receives horrible reviews and Startapp goes out of business, saving Marlin and Lemon Man's homes from demolition.
Episode 106: Someone in Mind (Halo Reach)
Edit
After finding out that Lemon Man and Cotton Swab think imaginary friends are for little kids, Marlin attempts to get rid of his imaginary friend: Mrs. Nilram. Nilram is abusive to Marlin, kicking him out of the house and forcing him to sleep in a run-down motel. Marlin confronts Mrs. Nilram and has him arrested by the Imaginary Police. After hauling him off, it's revealed that the Imaginary Police are, in fact, real people who help others rid themselves of their imaginary friends.
Episode 107: Mismatched (Halo Reach)
Edit
Marlin, Jerry, and Schmo take skydiving lessons. In his excitement, Jerry accidentally kills the instructor aboard the plane and jumps out with Schmo, leaving Marlin behind. Jerry and Schmo land in the ocean and wash up on a deserted island. Schmo is fuming, blaming Jerry for getting them into this situation. The two storm off in separate directions, but soon realize that they need to work together to get off the island. Jerry discovers a jetpack, which Schmo then uses to fly up to a radio tower and send for help. The two are rescued with a newfound appreciation for each other.
Episode 108: Lawbreaking Citizen (Halo Reach)
Edit
Marlin meets Goblin Goblinowitz: the host of the TV show "Breaking Strange Laws." Goblin is in Alpine Springs with a crew to break a strange law that involves entering someone's house for thirteen seconds. Marlin lets Goblin use his house to break the law, and Goblin is arrested. At the trial, Goblin denies breaking the law, despite the fact that he was filmed doing so. Marlin testifies, and reluctantly admits that Goblin broke the law in his house. However, because judge forgot to swear Marlin in, his testimony is thrown out and the case is declared a mistrial. Goblin is cleared of the charges, but is promptly arrested for tax evasion.
Episode 109: Ridr Die (Halo Reach)
Edit
Marlin and Cotton Swab try out the ride sharing service Ridr. They have a horrible experience, and are chased by an angry taxi driver who's competing for their business. The pursuit ends with a gigantic crash. The Rider driver dies, but not before reporting Cotton Swab for being a horrible rider.
Episode 110: Torture Chamber (Halo Reach)
Edit
Marlin, Lemon Man, and Cotton Swab compete against each other on the game show "Torture Chamber." The gang endures punishing challenges, including electric shocks and having to listen to recordings of their younger selves. Eventually only Marlin remains, and as a final challenge, has to hang in midair by his balls for 24 hours in order to win the grand prize of $600 McBillion. Marlin is cheered on by his friends and family at home, but gives up one second before winning. Afterwards, the three discover that the show was executive produced by Cory Von Sexy before his demise in hopes of torturing Marlin to death.
Behind the Scenes of Marlin the Elite
Edit
This documentary features behind-the-scenes footage of episodes 37 and 38 of Marlin the Elite, including voice-overs, acting, editing, etc. The film is hosted by all three members of TP, but mostly Layne and Kyle. The video was released on Saturday, June 13th, 2009. Check out the event here.
This film is also accompanied by two spin-off videos, one being an extended version of how to capture footage to a computer, and the other being an outtakes video.
Marlin the Elite is also famous for doing short episodes for each holiday. These shorts are called "A Message from Marlin: (Holiday Name). So far, only Layne has been in a Marlin holiday short; the other two people that make the Marlin show (Kevin and Kyle) are not present in any of these. "The Light" features Kevin, but Kyle's part was deleted.
A Message From Marlin: Halloween
Edit
Marlin, dressed in a Halloween costume, attempts to teach you how to be safe while you Trick-or-Treat.
A Message From Marlin: Thanksgiving
Edit
Marlin's grandpa catches a good dinner, and he, Marlin and Grandma have a Thanksgiving dinner.
A Message From Marlin: Christmas
Edit
Marlin quizzes Santa Claus to see if he is real or not.
A Message From Marlin: Valentine's Day
Edit
Marlin counts down the top ten things people are looking forward to on Valentine's Day.
A Message From Marlin: St. Patrick's Day
Edit
Marlin finds all of the things that are green in The Pit, and then runs into a Leprechaun.
A Message From Marlin: Easter
Edit
Marlin hires a British man to help you find Easter Eggs... or find people.
An Announcement From Marlin (a.k.a. A Message from Marlin: April Fool's Day)
Edit
Marlin announces the sad news that the Marlin series is ending. After explaining that that is just an Apirl Fool's joke, one of Marlin's neighbor's from the Pit pulls pranks on everyone. Marlin tries to stop him by coming up with the best prank of all time... but is it not a joke at all?
The Light
Edit
The first short that isn't a Holiday short, this was made while filming episodes 15 and 16. It features the Chopper gang finding a light and proclaiming that it is a gift from the gods. Then one of the members are killed.
Messages For Marlin
Edit
Marlin's fans send him messages, and now we get to see and hear them.
A Message from Marlin: Fourth of July
Edit
Marlin tries to help out with the 4th of July planning committee, but ends up destroying the whole set up.
Ways Characters Have Died (CONTAINS SPOILERS)
Edit
Ep. 1: Billybob was blown up in a car accident.
Ep. 2: A Warthog exploded in front of the man at the dunes and kills him.
Ep. 3: The drug dealer explodes with all of his drugs in a pool of exploding drug barrels.
Ep. 4: The Hotel worker is stuck by Marlin while inspecting the manure-fall.
Ep. 5: Roberto accidentally kills himself with a mini-nuke while trying to kill Marlin; the Nurse blows herself up with a grenade, thinking it is fruit.
Ep. 6: One Spartan kills himself with a fusion core, the other killed by Marlin in a tank. The Mayor is killed with Marlin's Brute Shot.
Ep. 7: One Spartan is splattered by Marlin.
Ep. 8: The Ghost dealer is killed by a Ghost explosion, and the guy who thinks he's cool is killed by a sticky exploding next to some fusion coils.
Ep. 9: One cop is shot in the head, and after that, he is flamed by Marlin's Grandma.
Ep. 10: The Tour Guide is splattered by the pink elite, and then the pink elite gets a tank dropped on him.
Ep. 11: The Scottish guy is killed by a rocket, and the coach and the team member are killed by stray Marlin rockets that he hit with his hammer.
Ep. 12: Marlin's students all end up killing each other while fooling around.
Ep. 13: Dr. Science and Dr. Bottletry go up a man cannon in a Warthog and Marlin kills them with a Missile Pod.
Ep. 14: The tour guide is killed by one of the slaves, and the slaves are killed as Marlin fires missiles as fireworks.
Ep. 15: No character was killed in this episode. It was saved for 16.
Ep. 16: The Chopper Gang explodes in the Tribal Transport Vehicle.
Ep. 17 (part 2): RC and the producer are chased off a cliff by fans, then the fans jump off as well.
Ep. 18 (part 2): When CVS's Balloon lands on the announcer's stage, there is a big explosion and everyone in the Balloon, and the announcer, die.
Ep. 19: Virgil exploded a warhead, which killed him.
Ep. 21: The military leader, Hank, is blown up. The other two green soldiers are killed by weapons fire.
Ep. 22: Although it was never shown, Tattoo was executed. Cory Von Sexy's Mongoose caught on fire and he rode off of a cliff.
Ep. 24: The judge falls off of his post, and gets stuck behind a box. Because he is trapped, he kills himself.
Ep. 25: Grandpa drives his Ghost off of the edge of his house, but Grandma says that he is not dead.
Ep. 28: The director is sniped in the head.
Ep. 29: The trucker drives off of a cliff.
Ep. 30: While Marlin and Cotton Swab went Christmas caroling in the neighborhood, their singing ended up killing 4 of their neighbors.
Ep. 31: Ralphonso and his car are blasted off of a cliff by Lemon Man's gravity hammer.
Ep. 32: It is unclear if Cory was killed or not. If Cory did die he was resurected because he appears in Season 5 in Galacticon Grandma was not actually killed.
Ep. 33: Nobody really died, but there was talk of one "Fatty Fartface" falling off of a cliff to his death.
Ep. 34: The scoutmaster and Snot died after failing to make hole in ones.
Ep. 35: No one died, but at the end of the video, Marlin was seen beating around the body of the policeman.
Ep. 37: The clerk got blown up by the SWAT along with the store.
Ep. 38: No one, but Marlin was tried to be kill to be served as food.
Ep.39 Marlin and Lemon Man run over the owner of the lake.
Ep.40 Marlins grandpa falls of a cliff but climbs back up, Then Marlins grandma accidently flames him but Lemon Man and Cotton Swab put the fire out but he does not die.
Ep. 41 Marlin ends up killing all the instructors.
Ep. 42 (part 2)The captain goes out to the rockets hull to bring oxygen into the ship but ends up floating away in space.
Ep. 43 the space terrorists ended up being killed by the Space Pirates.
Ep. 43 (Part 2) The space pirates got kill by space cowboys.
Ep. 44 No one on screen, but Cotton Swab's uncle may have been killed by the shark.
Ep. 45 Estabon's sniper rifle bullet hits some exploding barrels that he is standing next to and he dies from it. The explosion blasts him very far away.
Ep. 46 The old man in the beginning of the episode dies of a sickness.
Ep. 47 No one perishes
Ep. 48 A bodyguard-in-training gets sniped in the head, and Barney Gorgeous falls to his death along with a camera man.
Ep. 49 Nobody, but the producer was almost ran over.
Ep. 50 Cory von Sexy by almost everyone at Galacticon, even by Marlin's grandma and grandpa.
Ep. 51: A guy asks Marlin for drugs and Marlin throws a plasma grenade at him
Ep. 52: The Health Inspector is killed by all the diseases in the Community Bathroom
Ep. 53/54: Nobody
Ep. 55: As this episode only contains the 3 main characters, none of them die, however all three of them are taken down at some point in the episode.
Ep. 56: Nobody
Ep. 57: Marlin shoots the Armor Lock guy with his new Concussion Rifle. Marlin also takes down the AI Robot with an assassination, but not before the Robot takes out Marlin, Lemon Man and Cotton Swab (but they can all come back because it's a virtual reality test chamber)
Ep. 58: Nobody
The Essential Marlin
Edit
The Essential Marlin: Volume 1
Edit
After the Mapocalypse (see below), Layne started to create his own music for the show. The Essential Marlin: Volume 1, is a CD with 20 tracks and more than 40 minutes of music. Track 20 is a voice outtake from Marlin from episode 22. The CD was released on 7/7/09 (July 7th, or "Bungie Day"). The CD can be purchased here.
The tracklisting is as follows:
Marlin the Elite Main Theme
Marlin's Intro (*)
Trouble in the Pit (*)
J.O.'s Court Case
Driving School
RIP
Desert Campfire
Scary Story (*)
Ditched
Golf Course from Hell
Present for Grandma (**)
Dinner Date
Sneaky Swing Beat
Jovial Adventure
That's Life
1337 Scout Theme Song
Marlin Blues
Jovial Adventure (Rhythm)
Happy Ending
"I Burped" (Voice Outtake)
(*) Denotes a song that was released on YouTube prior to the date of the CD's release.
(**) Denotes a song that released on YouTube the day of the CD's release.
Episode Production Process
Edit
The process of creating an entire episode can take up to a few days, and consists of three major parts.
Part 1: "Puppeting"
Edit
The creators of the show already have a list of the episodes for the season. They look at what episode they are to film next, and talk about what details should go into the episode. From there, they load up the Forged maps and start to act out all of the scenes for the episode. About 10% of the material they film does not end up in the final episode. Acting out these scenes is called "Puppeting".
Part 2: Editing
Edit
Layne, the head of Thomas Productions goes into Theater mode and films all of the scenes needed for the episode. He then captures all of the scenes in the puppeting stage onto a digital video camera, and uploads those scenes from the camera to a computer. He then uses a special editing software to edit the episode, while trying to keep it under 10 minutes. This is where unneeded scenes are cut.
Part 3: Voices
Edit
Layne, who voices Marlin, does all of his voices after editing is complete. He then calls over the other two members of Thomas Productions, and they record their voices for the characters that they played in the puppeting stage. Once this is complete, the episode is watched to make sure everything looks okay, and then it is released on YouTube.
Although TP originally used music from other artists, the videos were eventually taken down (see Mapocalypse below). After that, Layne began writing his own music for the show. Layne has collaborated with Kyle on some of the music, including songs in season 5, 11, and the Marlin movie.
A CD containing all original music from the show was released in 2009, and the original score for Marlin the Elite: The Movie was released online on November 17, 2017.
Running Jokes
Edit
This show, along with many other shows, has running gags, or running jokes, that they use on the show.
These jokes are:
Every time Marlin has to pay money, it's 600 McBillion dollars.
Talk shows are mentioned.
After the credits on episode, there is something funny that happened while filming.
Every time Marlin comes to a door or wants to know if someone is near, he shouts "Ding-Dong!"
Ever since episode 21, a scream known as the "Kylehelm" has been put into any episode that will take it. This scream was recorded by Kyle, a member of TP.
Lemon Man offers Marlin Lemon Cake many times through the series (A reference to himself).
Characters' E-Mail
Edit
Lemon Man made an e-mail account, so fans can e-mail him with questions and comments. "Lemon Man" personally answers every email. The e-mail is lemonman@ymail.com
Fellow actor Kyle has said numerous times on TPCasts that he will most likely never set up an e-mail for one of his characters out of fear that he will forget about it. However, one of his characters now has an e-mail. Cotton Swab's e-mail is thecottonswab@yahoo.com. He also has his own Facebook page.
Shutdown of Gruntsrus.com
Edit
GRU sponsors Marlin the Elite for the reason that oriol003 (the creator of GRU) liked the series.
On June 9th, 2008, GRU shutdown due to hackers. It reopened a few months later and re-struck the deal with TP. GRU is still a prominent partner.
The "Mapocalypse"
Edit
When a deal with Warner music fell through with YouTube, Marlin videos began to be taken down, due to the theme music. Subsequently, all episodes 1 - 30 were removed from YouTube, and made only available on ThomasProductionsInc.com. Season 4, however, will continue on YouTube. This era (from January - March, 2009) is referred to as the "Mapocalypse".
The creators of Marlin the Elite decided to make a machinima in the summer of 2007. One of the creators made a test video, which apparently includes Marlin going crazy, and then telling the audience that he will give a tour of his house. This video takes place in the Halo 2 map Coagulation, although in the actual series, Marlin's house is in Headlong. Very few people have seen this "Intro to the series".
Episode 4 was one of the longest episodes, so the editor had to cut some of it out. Deleted scenes from this episode were released on YouTube shortly after episode 4 was released.
Thomas Productions apparently has a paper with short overviews of all the episodes they have planned to make for Season 2.
Lemon Man's house was created in Forge, in the same map as Marlin's house, however, Lemon Man's was Forged long after the original map was created.
Marlin's emblem is a happy face. Lemon Man's emblem is the skull king. Grandma's emblem is a radioactive symbol (this was done on purpose as a joke).
Due to the fact that Kevin and Kyle (co-creators of the show) are not in any of the Holiday shorts, Layne (creator of the show) sometimes plays some of the recurring characters. For example, Kyle plays Marlin's grandma, but Layne played her in the Thanksgiving short. Kevin plays Lemon Man, but Layne played him in the April Fool's short.
Episode 12 had more scenes cut than any other episode, and to get as many scenes as possible into the episode, the Marlin theme at the beginning of the episode was altered slightly so that it was shorter. This was also done with episode 13.
Episode 13 has to do with being unlucky. This was done on purpose.
The movie 1408 was referenced in episode 4. This was the number of the room Marlin resided in.
Thomas Productions has stated that the map "Valhalla" is used as the all-purpose map. It has, so far appeared in episodes 7, 8, 10, 13, and 14, and 33.
Although Layne used his own account for the fan episode, Marlin has his own XBox Live account.
Episode 14 had a goof. The tour guide's first appearance in Valhalla featured him in Mark VI armor, but during the tour, he had CQB.
Marlin has it's own shop where you can buy products with the logo on it: [3]
In episode 15, the guy in the Chopperz gang with the Mk. 6 helmet armor was actually the MarlintheElite account, only changed.
Marlin 16 was originally called "Gone Tribal", but a last-second change of idea made it "Marlin of the Dunes", a reference to George of the Jungle and Lawrence of Arabia.
Episode 8 was originally planned to be episode 4.
The idea for episode 17 was thought up during the production of the first season.
On May 25th, 2008, the TP team had a big day thinking up ideas for Marlin episodes. What had been planned for episode 28 was liked so much after a brief discussion that it was moved up into season 2 as episode 18.
Grandpa is the only character to be featured in a holiday short before an actual episode.
The "in flight" movie in Cory's Balloon is "Commercial Sabotage, a live-action video Thomas Productions made earlier in 2008.
While filming episode 22, Tattoo was actually executed. The scene was captured, but was deleted for unknown purposes.
TP is known to be interactive with their fans. In Episode 32, Lemon Man said he would send out emails inviting people to the funeral. And lemonman@ymail.com, the official email of Lemon Man, sent out actual invitations to people who had emailed him in the past.
Marlin the Elite is a show that has many stand-alone episodes, and also many two-part episodes. Episodes 15-16 was the only two-part story arch filmed in one day.
Marlin the Elite seasons are shorter than normal TV seasons; about half as long in fact (ex. September-December). Each of these seasons typically contains ten episodes, so if Marlin the Elite seasons were the same as regular TV seasons, they would contain twenty or more episodes.
In Episode 37, all of the names of computers and such are named in leet. There is the P155, the A55 P00, and the T175. There is also the POS, which stands for "Piece of S***".
In Episode 50, it is revealed that Jerry (aka Satan)'s full name is Jerry Cripes.
In the same scene as above, the sub that F'Andre orders is the same sub that actor Kevin orders at Subway when he goes there.
Episode 55 is the first episode to contain Marlin, Lemon Man, and Cotton Swab as the only characters in the whole episode
Episodes that are a part of the Teleporter storyline (which began with episode 81) are denoted during the opening titles; a background of the teleporter is used instead of the usual shot of Alpine Springs.
Community content is available under
CC-BY-SA
unless otherwise noted.