Kyle the Axe Murderer is a live-action video made by Thomas Productions and was released on April 23, 2010.thumb|300px|right
The video starts off with Kyle sitting in a chair holding and axe and telling the viewers that he's an axe murderer. He then offers to show the viewers his video resume to show what a great axe murderer he is. A musical montage starts up showing Kyle killing Kevin and Layne in several different and hilarious ways. Kyle then addresses the viewers again by saying that he's going to kill them. The camera man starts to run away, but is struck down. The video ends with Kyle smiling into the tilted camera.
Behind the Scenes
Edit
Kevin and Kyle came up with the idea for the video when they saw an axe in Layne's backyard (used for chopping firewood). Percautions were taken to ensure the safety of the actors, such as filming seperate shots and editing them together.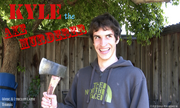 After filming, Layne wrote and recorded a song for the video called
Kyle the Axe Murderer
. The full version of the song can be downloaded here:
Kyle the axe murderer
You better watch out 'cause he's coming for you
Kyle the axe murderer
Pretty soon you might be dead
He might come at you from the rear
Or he might just decide to kill you outright
Kyle the axe murderer
Pretty soon you're gonna be dead
(music section)
Kyle the axe murderer
You better watch out 'cause he's coming for you
Kyle the axe murderer
Pretty soon you could be dead
He might decide to slice your neck
Or he could decide to chop your groin
Kyle the axe murderer
I'm pretty sure you're gonna die