Halo News is a series of live-action videos created by Thomas Productions. The series began in July of 2009.
thumb|300px|right|The original Halo News video
Overall Plot
Edit
The videos usually start off with a newsman named Raul finishing off a random news segment and intoducing new Halo news. He then calls upon the "resident Halo expert" Joseph Anthony to talk more about the news topic. Raul then opens the chat to callers, who call in and ask Joseph questions. The Halo segment ends and goes to a weather segment with Todd the weatherman.
Behind the Scenes
Edit
The series is filmed against a green screen so different backgrounds can be inserted. However, the green screen isn't big enough for both Layne and Kevin to sit next to each other; they both have to film their parts seperatly.
The second video in the series (Halo News - February 2010 ) was filmed in conjunction with the video Winter Olympic Coverage, mainly so the green screen didn't have to be set up twice.
Behind the Scenes Photos
Edit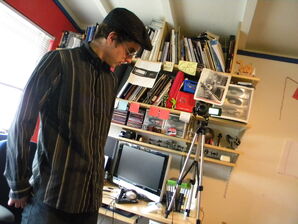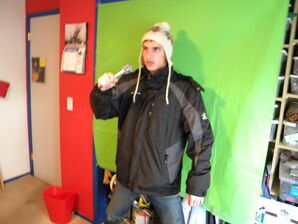 Community content is available under
CC-BY-SA
unless otherwise noted.