Bob's Bob Mart
is a live-action video created by
Thomas Productions
and released on January 14, 2007. A s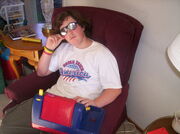 equel (
Bob's Bob Mart 2
) was later made and released on January 29, 2011.
Bob's Bob Mart
Edit
Bob runs a "store" called Bob's Bob Mart in his house. Customers come in looking for stuff to buy, and often take advantage of Bob's hospitality. One "customer" in particular is Jeff. He comes into Bob's Bob Mart on a regular basis and steals stuff from Bob, usually at gun point. Bob tries to defend himself by getting his own gun, but Jeff still manages to make off with some of Bob's merchandise.
Bob's Bob Mart 2
Edit
Many years after the first movie, Bob has been hit hard by the recession. He's had to sell off and/or give away almost all of his merchandise, leaving only a coffee table full of cheap goods. The only "customer" that visits Bob's Mart on a regular basis is Jeff. Jeff has also been hit by the recession and comes around more often to steal from Bob, dispite a restraining order. The one real customer that Bob gets is scared off by his sales pitch as well as the lack of items. The customer is not even fooled by Bob's "20% On" sign, which Bob religiously hangs outside the mart every day. Down in the dumps, Bob tries to get a job at Safeway, but does not succeed. Just when all hope is lost, a representative from Rob's Rob Commercial Company offers to make a commercial for him that'll air during the 2013 Super Bowl. However, the company wants Bob to foot the 10 million dollar production bill. Bob accepts by exclaiming that he'll get a loan.
Main Characters
Edit
Community content is available under
CC-BY-SA
unless otherwise noted.